If you have a bakfiets (cargo bike) and its being used to transport your family around, then there could be a lot of small tweaks you can do to make it more family friendly.
So far, this is what I've done to our bike: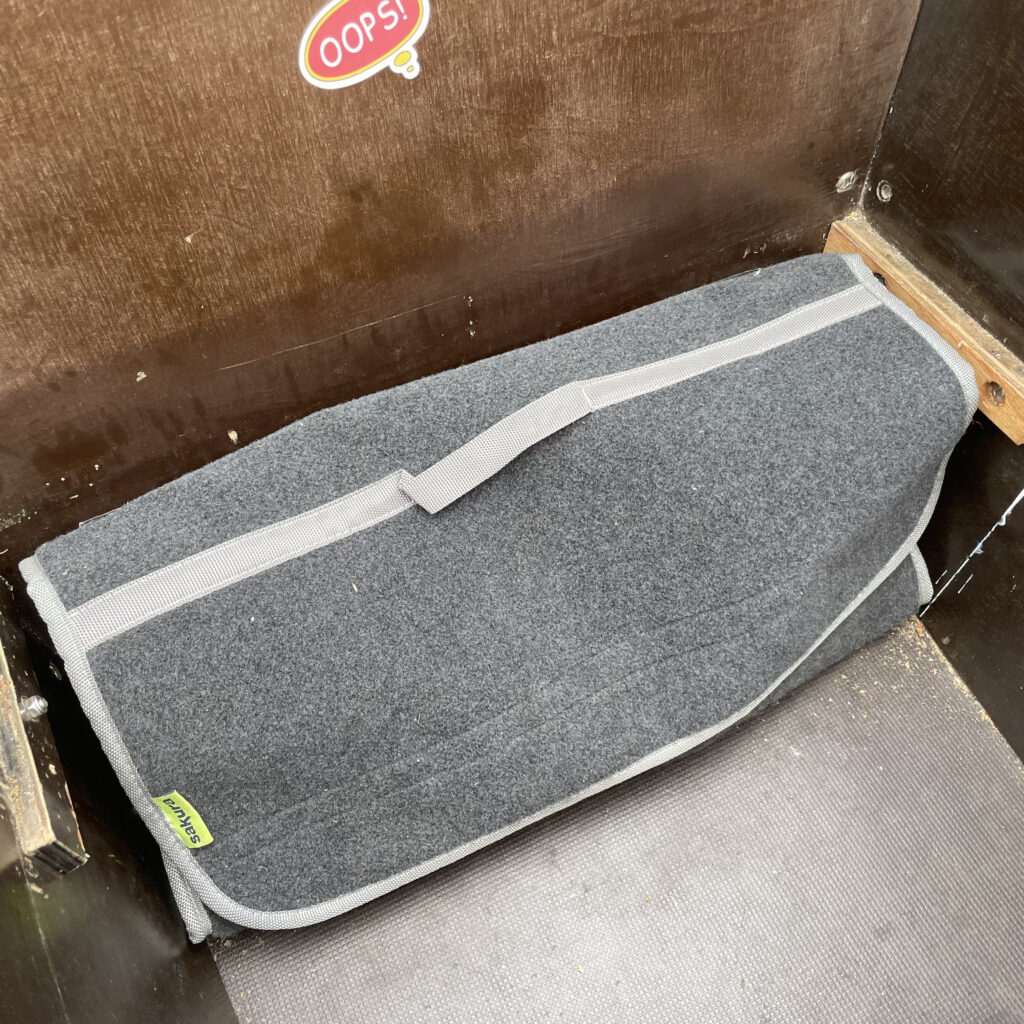 The most welcome addition was a flip-top boot organizer (commonly called a bag) with a velcro closing mechanism, neatly tucked under the seat. No more the noise from rattling equipment!
Costs £9.9 each, but I got two so I can swap between long family trips and daily commute.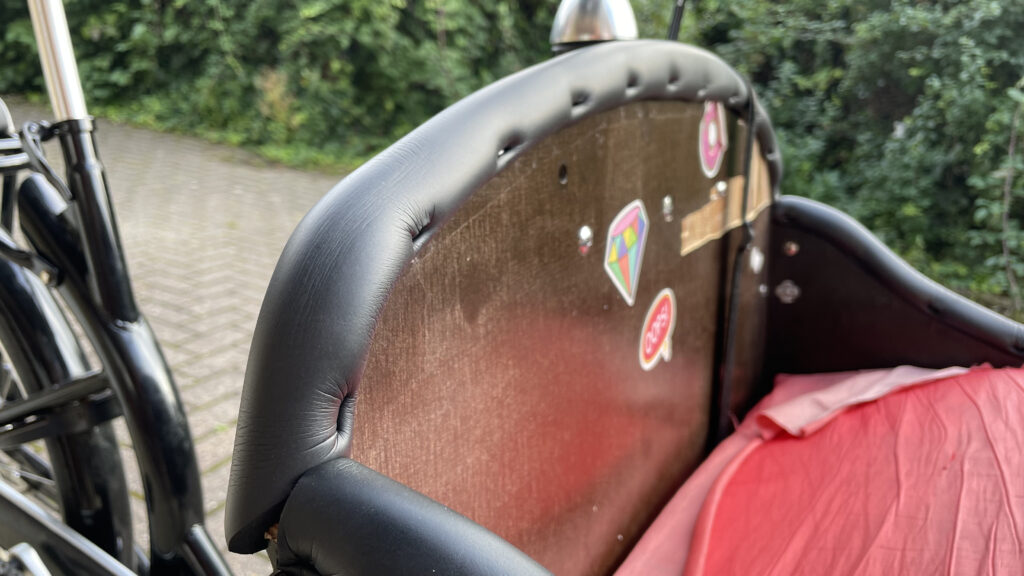 The corner padding around the box was a very welcome addition to the bike. As the kids put their knees on the edge when climbing onboard, this definitely made that easier. Resting the head on it on their naps is also suddenly a more humane option. Costs £5.99 each.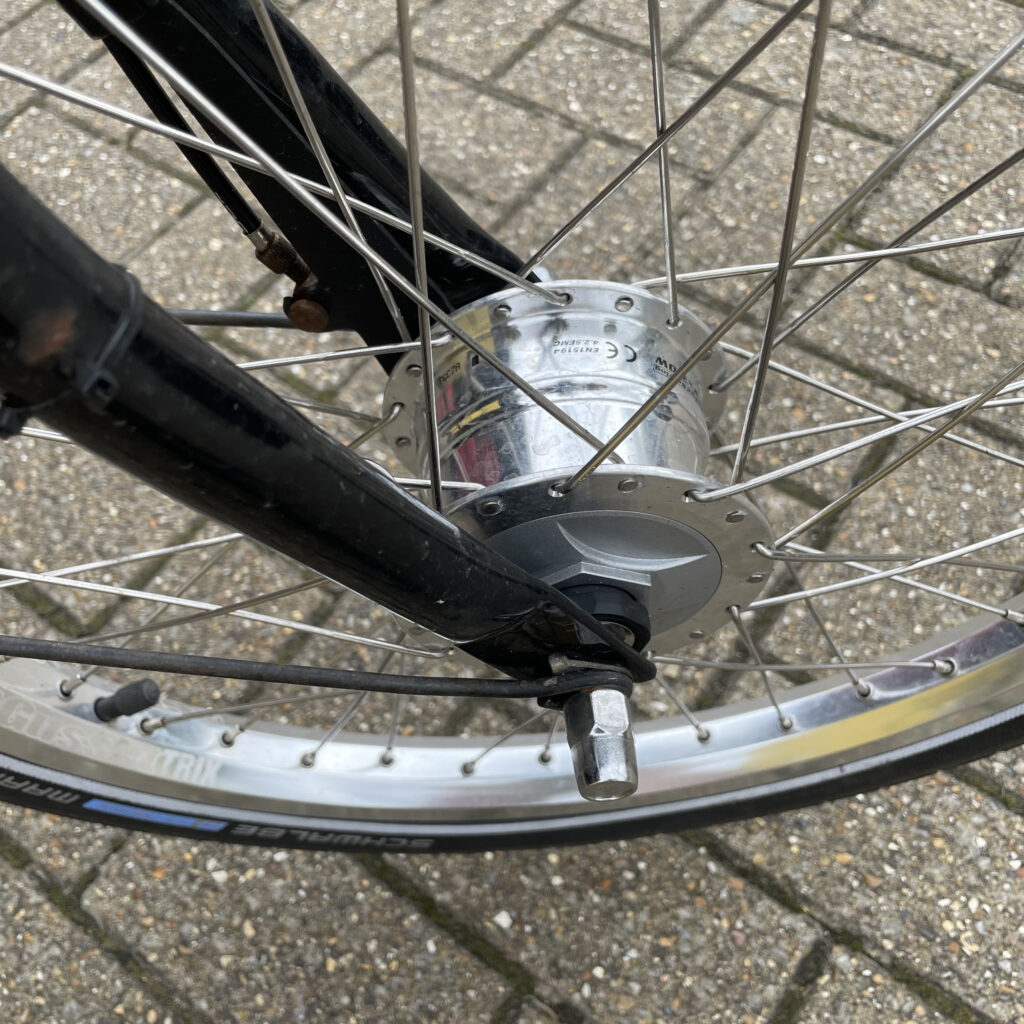 Initially I had a dynamo on the front fork, but it actually broke off while riding. Just luck that it didn't jam the wheel and cause some kind of incident. So I replaced the front wheel hub with a dynamo, which is clean and nice.
I did this at a bike shop for about £130, which included the dynamo, spokes and labor for the rebuild.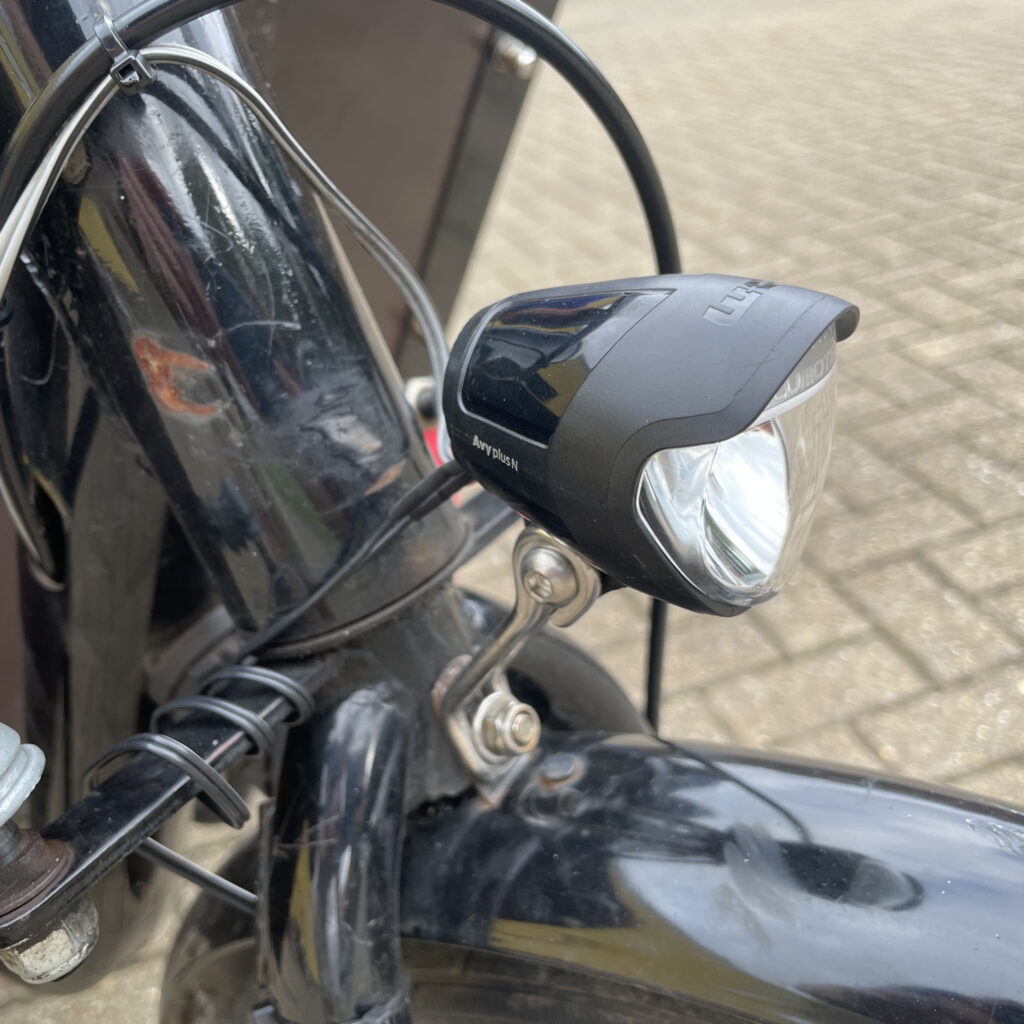 With the new front wheel dynamo, the repair shop recommended a new front light. Not sure why, as the one I had was already a dynamo light with he same specifications. The light from this one however, is better. Set me back £41.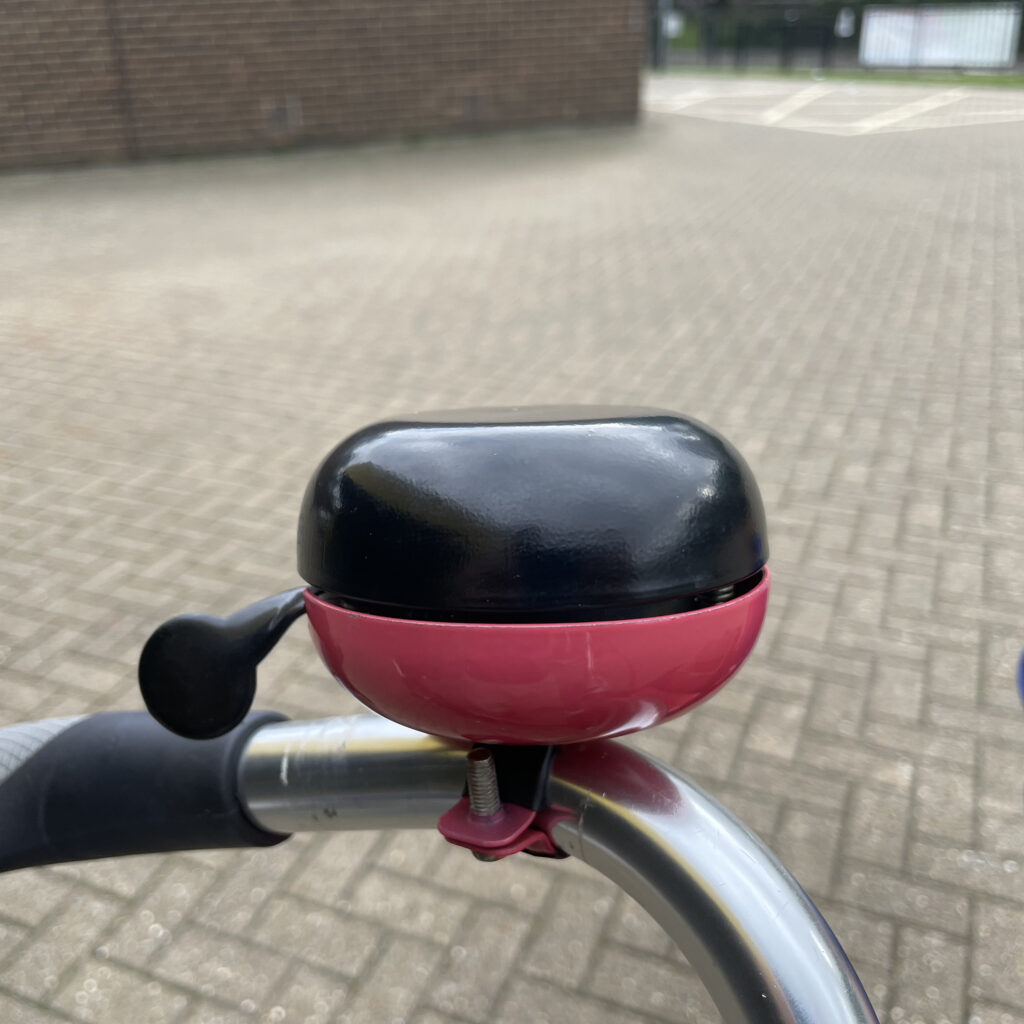 I bought one bicycle bell from Amazon, which arrived damaged. So I bought another from another manufacturer, and successfully combined the two for a proper ding-dong sound (as I didn't have to return the broken bell). Cost £10.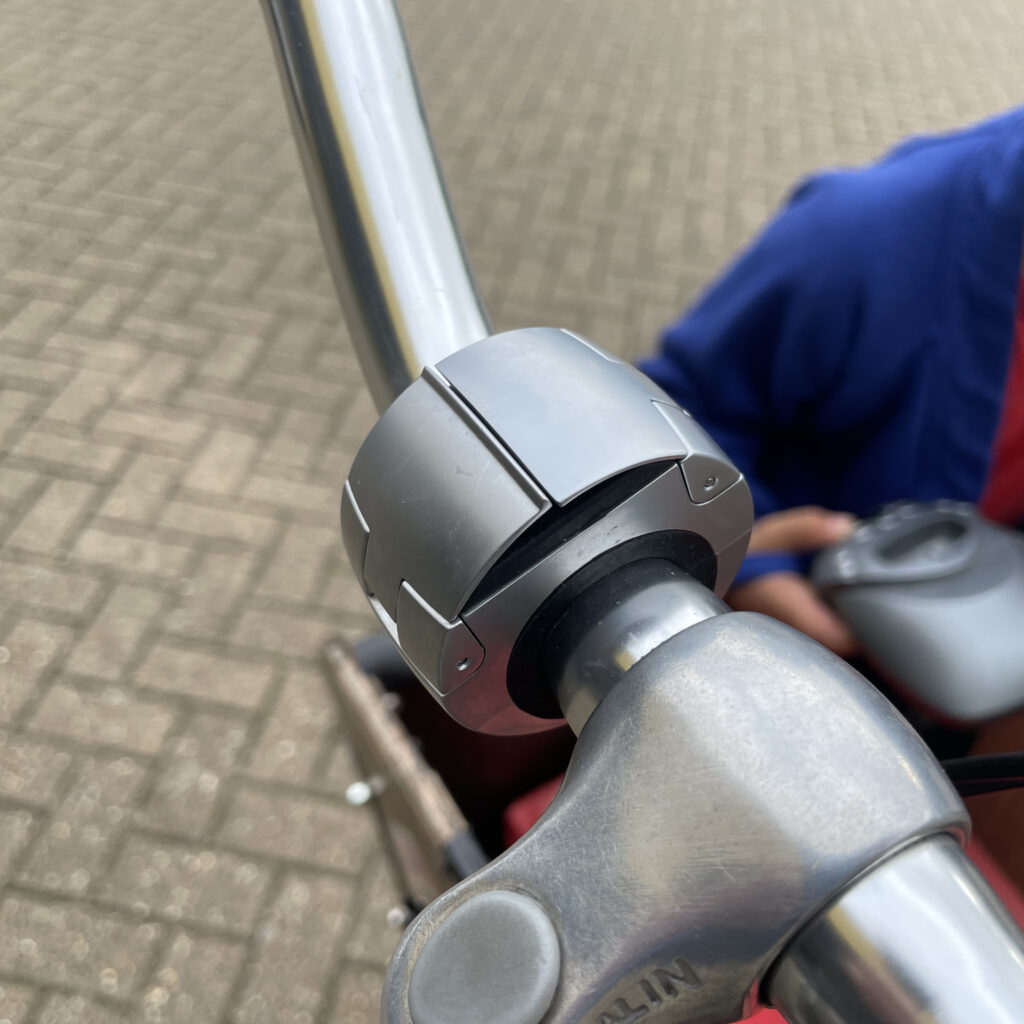 To hold my phone I chose the Loop Mount. Initially it was pretty nice, but after a while the rubber paddings fell off, and the holder is useless without them: my iPhone 12 Pro fell off while biking high speed on the road, I thank the case for saving it.
Now however, I'm waiting for the new Loop Mount Twist which can be twisted to portrait and landscape (Kickstarter). Which should solve both annoyances with this phone holder. Costs £45.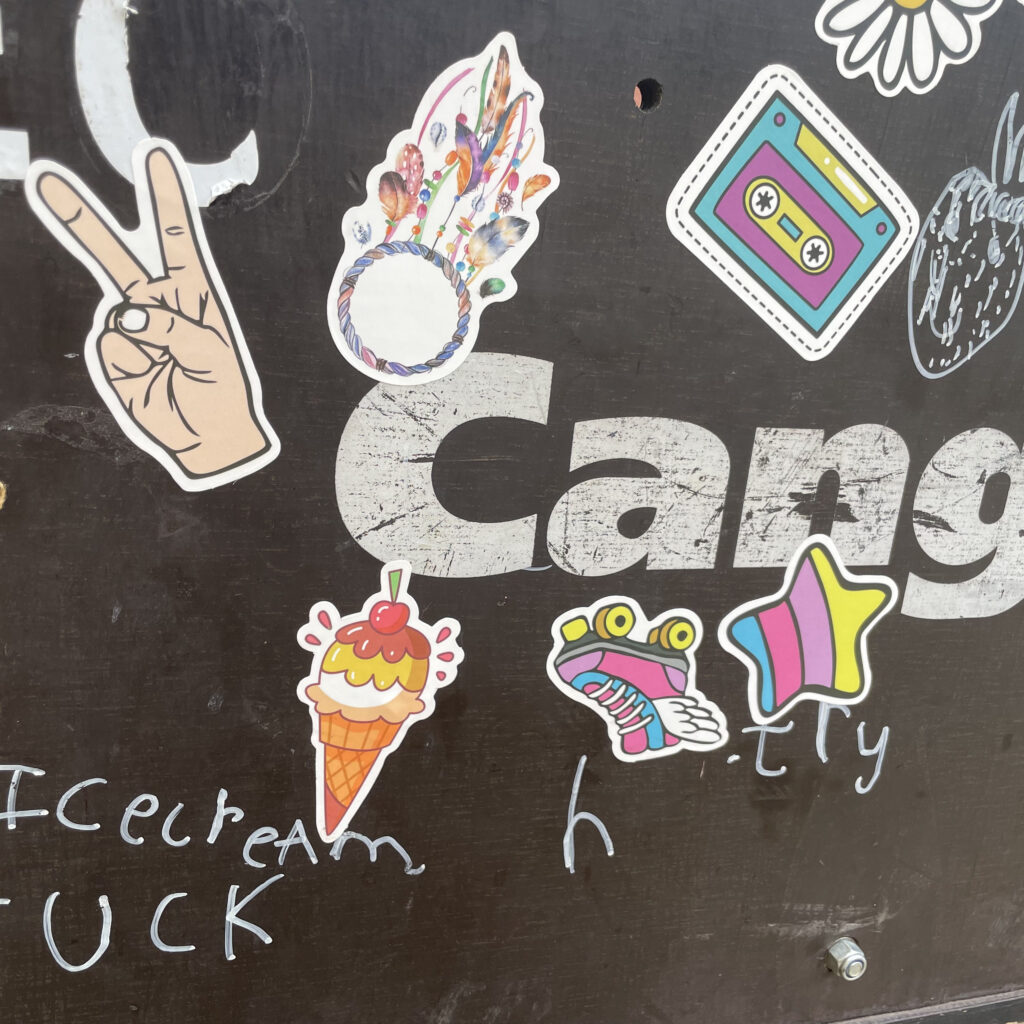 Of course, no family bike is complete without stickers. I got a bunch of waterproof vinyl stickers that the kids loved. They stay put while being easy to remove. Cost £4.21.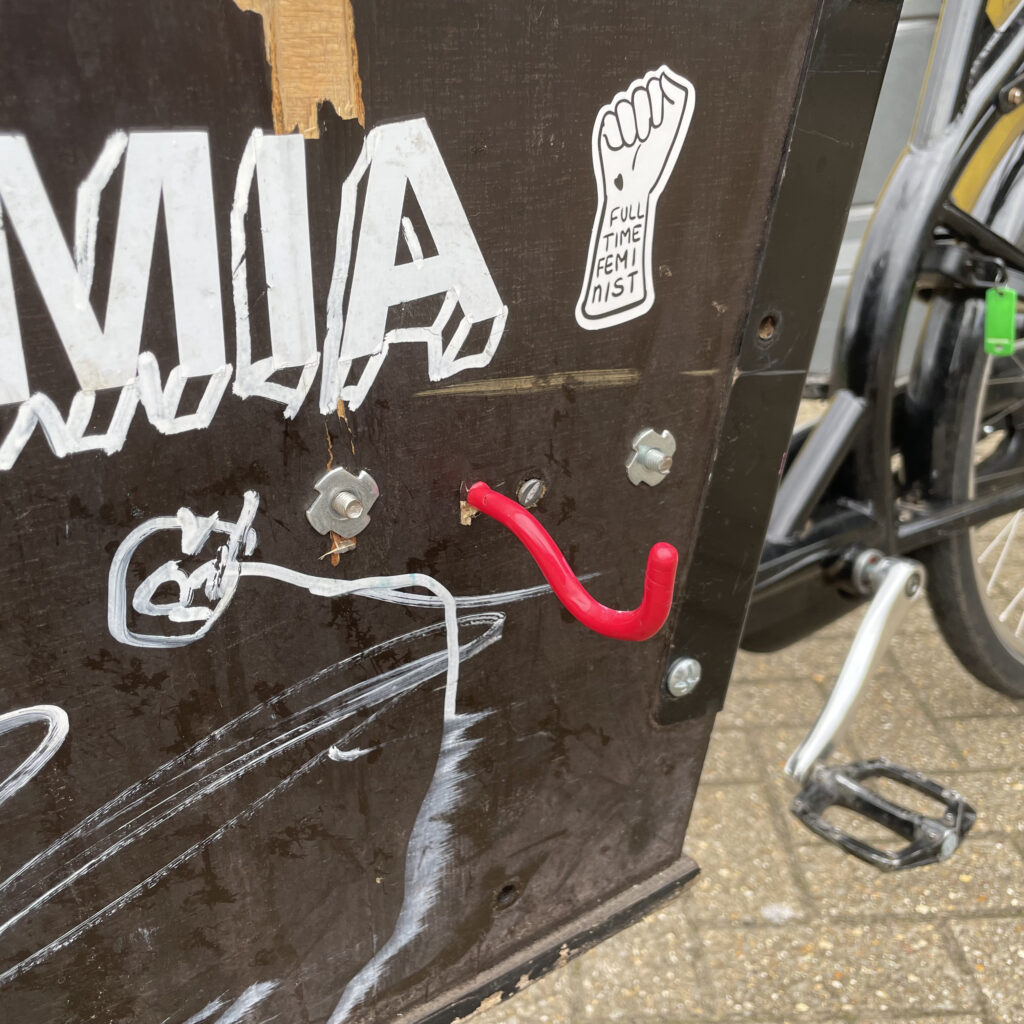 For our trips when the kids are riding their own bikes – they do get tired. This hook (£5.99 for two) allows me to hang the bike on the outside of the cab. I secure the bike with a heavy duty bungee cord (£6.99 for 10).
One time my youngest hurt herself when getting out of the box, as she forgot about the hook and scraped her back 🙁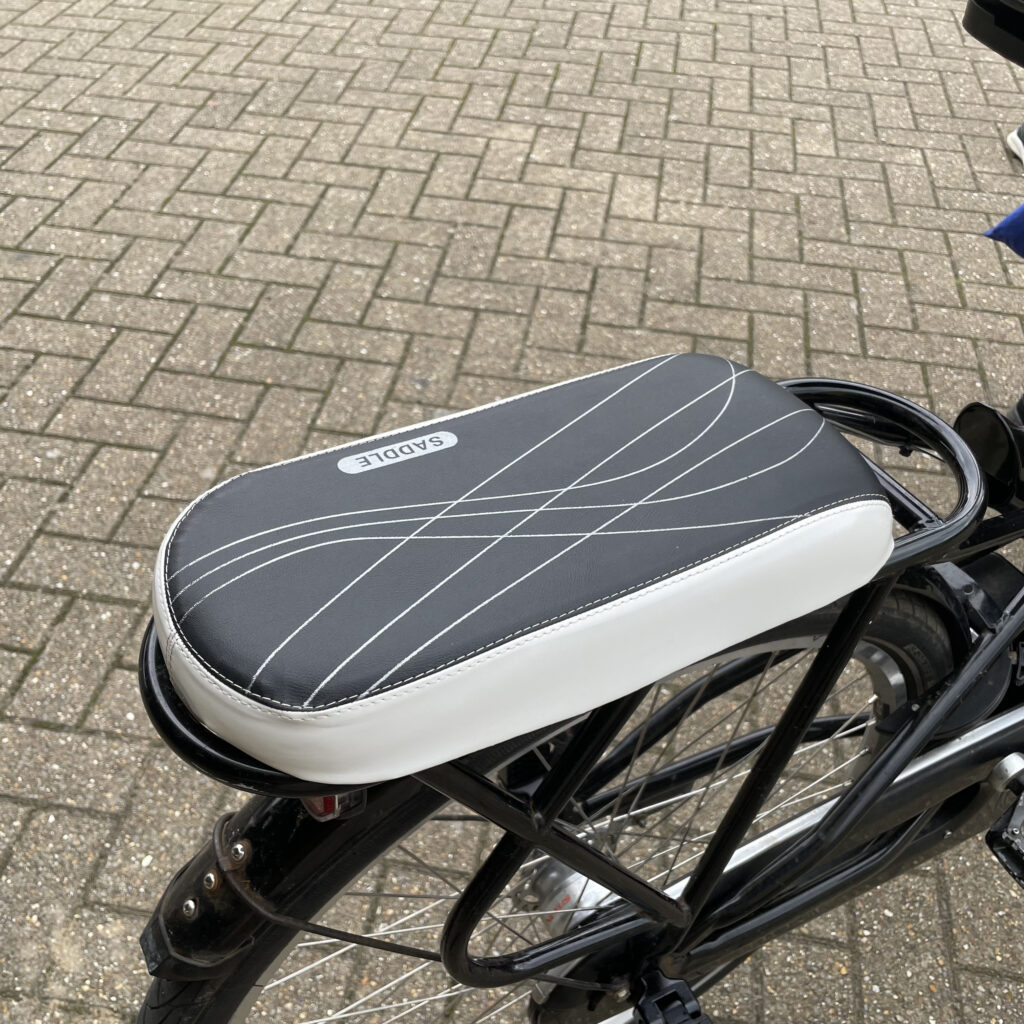 Some times we all ride the cargo; wife, kids and me. For those times it's a good idea to have the rear seat on the bike rack. I didn't put on the backrest as I doubt it adds any real value. Cost £10-20.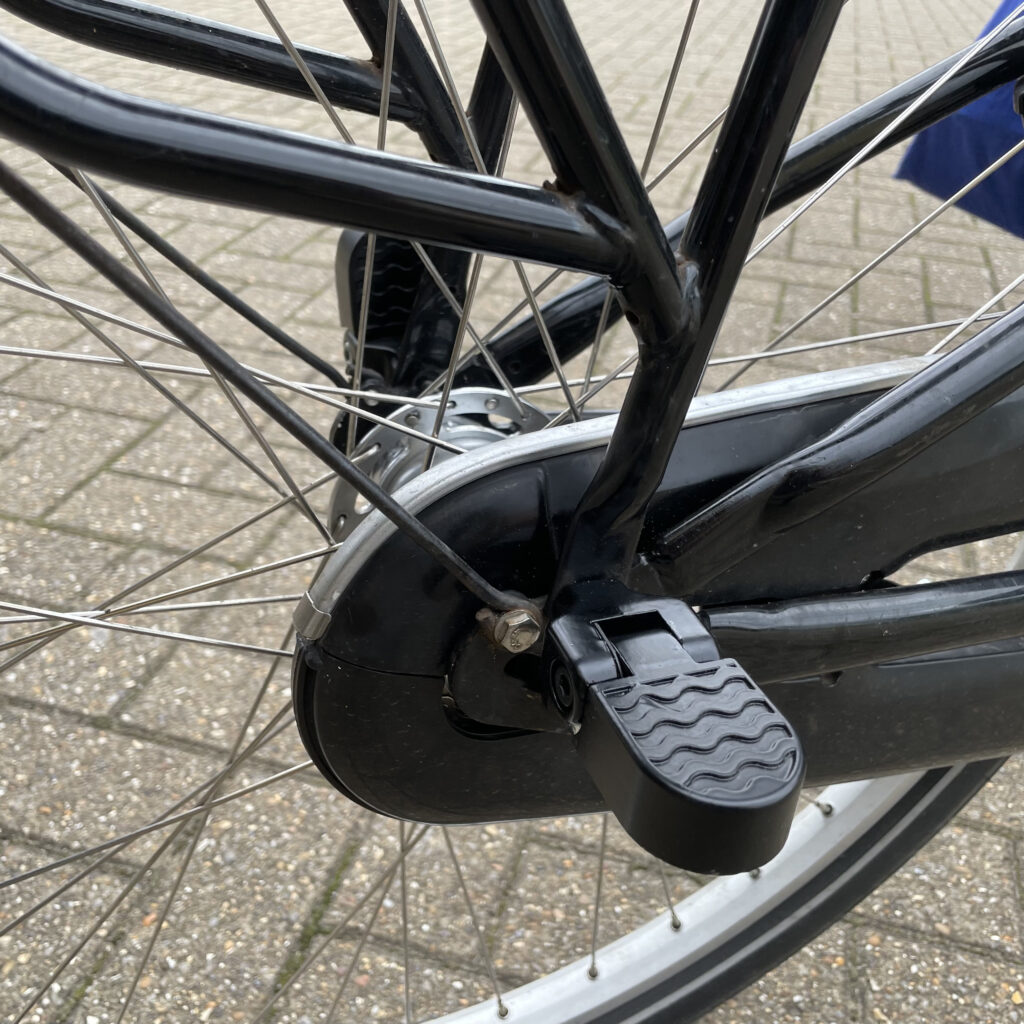 For the passenger sitting all the way back, they need foot rests. These are the nicest I've been able to find. They are very sturdy, and snaps satisfyingly into position when folded up and down. Costs £12.99.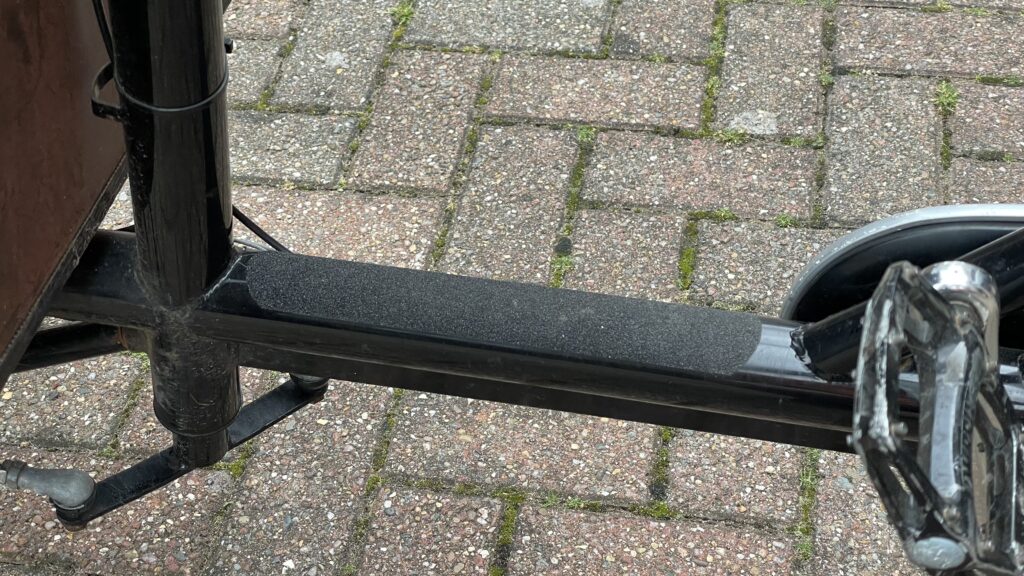 The kids love to stand on the bottom beam, so to avoid too much falling and getting hurt – I stuck some anti-slip tape to it. Costs £7.99.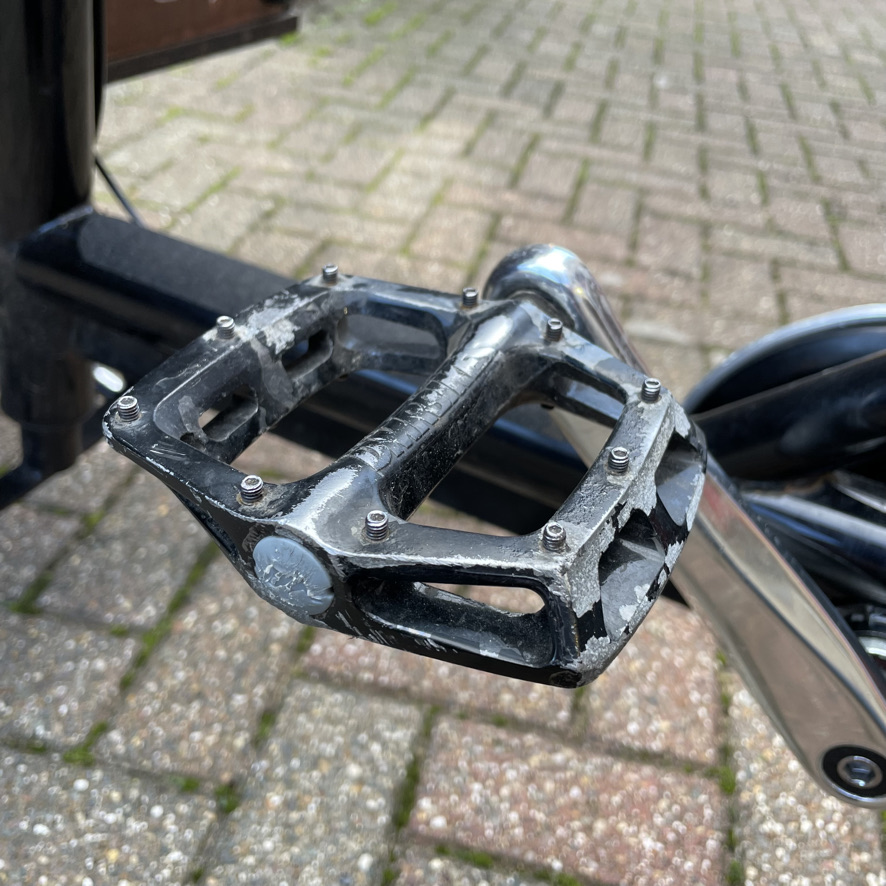 Over the years I have had several pedals, but they all basically broke apart. I assume the weight of the cargo bike limits your choices. You basically need to pay for some of the good ones. These are by far the best pedals I have ever had. I bought them in a bike shop, but I believe they are the DMR V8 Flat Pedal costing about £43.
For the winter season, I put a light chain on the cab. The best one I've found is from IKEA: it reaches almost around the entire box, and the LED lights have the perfect size for being installed from inside of the box (drill holes for each LED in the box, makes for a very clean installation). Something I plan to do this winter. For now, however I've just used some duct tape. Costs £7.
I'm also going to put some reflective tape on the cab, so the bike is easier spotted when it's dark. I saw this on another cargo bike user and it's a great upgrade. Costs £13.39.
In summary:
| | |
| --- | --- |
| Article | Price |
| Flip-top boot organizer × 2 | £20 |
| Corner padding × 2 | £12 |
| Dynamo hub, spokes and labor | £130 |
| Busch & Muller AVY Front Dynamo Light | £41 |
| Ding-dong bell | £10 |
| Loop Mount Twist for phone | £45 |
| Sticker pack | £4 |
| Hook | £6 |
| Heavy duty bungee cord × 10 | £7 |
| Rear seat | £11 |
| Rear seat foot rests | £13 |
| Anti-slip tape | £8 |
| DMR V8 flat pedals | £43 |
| Light chain for winter season | £7 |
| Reflective tape | £13 |
Total cost £380.
So there you have it!
Oh yes, I've also put a small cooling back with plates, cutlery and cups in the bag under the seat. Luck favors the prepared (already saved one play date).
Johan